®
Copy
r
ight 2012 by "
ใบไม้เขียว
" All Rights reserved
High Voltage / Sub-Station Testing Equipments and Services
SESCO ELECTRIC CO.,LTD.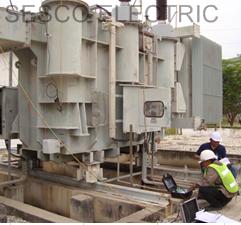 ---
Address: 76/76 Changwattana Rd., Anusaowari, Bangkhen, Bangkok 10220. Tel: 081-9207465 , Fax: +662 9973484

Low Price 4xx,xxx-
Three phase protection relay test set
4 voltage input, 3 current input
HTR- 902 Relay Protection microcomputer test device play a key role in operating electricity power systems reliably and safely.It is the testing device used in professional field of microcomputer protection,relay protection,excitation measurement,fault recorder.

Features
- Embedded host machine, equipped with big programmed CPLP ( complex Programmable Logic Device);
-12channels D/A output simultaneously in a single machine;
- High precise linear power amplifier, 6 phase voltage and 6 phase current output
simultaneously;
- 8 inch LCD screen display.Provide with keyboard/mouse connecting port,also 2USB port,
2 RS232 port,to communicate with PC and other communication devices;
- 8 channels switching value input and 4 channels switching value output.Input contact is
dry contact and 0-250V potential contact for selectable,intelligent identification;
- Plentiful Binary and powerful software function;
- Two groups of DC power supply, 110VDC/1.0A&220VDC/0.6A,no need to set and adjust
by software(Optional).

Phase current output (effective value): 3*0~30A/phase Max. output

power: 260VA/phase

Max. parallel connection current output (effective value):

?

0~90A

Phase current allowable effective value: <10A/phase

Max.current allowable working time: <10s

Output range: -10-10A or 3*0 -- ?10A

Phase voltage output (effective value): 4?0~130V/phase

Line voltage output (effective value): ?0~260V

Max.output power: 70VA/phase

Lapped overtone times : 0-21times

Output range: 0-300V or 5*0--?130V

Idle contact: ? ? 1~20mA, 24V (DC)

Electric potential contact: ? ?0~250V (DC)

Idle contact: 250V/0.5A (DC)




Frequency error: <?0.01HzHz

Waveform distortion: <?0.3% (fundamental wave)

Output frequency: 0~1050Hz

Lapped overtone times: 0~21times

Allowable range: AC220V?10%, 50Hz?10%

Test range: ? 0.1ms~999999.999s

360mm(L)?195mm(W) ?375mm(H)
Specification
Protection relay tester
We appreciate your requirements. For the most efficient service,please contact us
via email.


If you have any questions regarding this web site, please contact
Sales@Sesco.co.th or pemanr@htmail.com
จำหน่ายอุปกรณ์ไฟฟ้าแรงสูง.. เครื่องมือทดสอบไฟฟ้าแรงสูง...PM และ site test
บริการทดสอบ TYPE TEST by KERI LAB.
สินค้า