®
Copy
r
ight 2012 by "
ใบไม้เขียว
" All Rights reserved
High Voltage / Sub-Station Testing Equipments and Services
SESCO ELECTRIC CO.,LTD.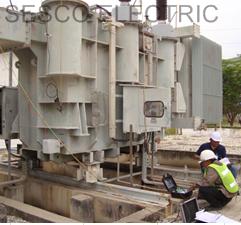 ---
GDB-II is a new generation of transformer turns ratio tester.The testing process is quick and fully-automatic.Another important function of GDB-II is automatically measuring the connection group of transformer.Operator set the test parameters.The testing process is Boosting test voltage,Balancing the bridge,Taking the readings on the LCD screen,then printing the results by built-in printer.

Features
1. Fully automatic testing, no manual balancing .
2. Test single phase and three phase transformers .
3. Measure transformer connection groups automatically .
4. Switch measuring range automatically .
5. Calibrate automatically .
6. Calculate ratio error automatically .
7. Save the test data automatically .
8. Recall and print last 30 records .
9. Truly portable, Weight less than 10kg .

Specifications
1. Power supply: AC 220V}10%, 50Hz}1;
2. Ratio span: 1:10000;
3. Display: Large LCD screen;
4. Accuracy: 1-2000 0.2% 2000-10000 0.5 %;
5. Test voltage: H.V : AC 190V(Selectable); L.V.: AC 0.19V`190V (vary with ratio);
6. Operation condition: temperature 0`40oC
humidity < 85% RH;
7. Dimension: 430~320~215mm;
8. Weight: about 10kg;
Transformer turn ratio test
Price 15x,xxx-
Address: 76/76 Changwattana Rd., Anusaowari, Bangkhen, Bangkok 10220. Tel: 081-9207465 , Fax: +662 9973484
Transformer test
We appreciate your requirements. For the most efficient service,please contact us
via email.


If you have any questions regarding this web site, please contact
Sales@Sesco.co.th or pemanr@htmail.com
จำหน่ายอุปกรณ์ไฟฟ้าแรงสูง.. เครื่องมือทดสอบไฟฟ้าแรงสูง...PM และ site test
บริการทดสอบ TYPE TEST by KERI LAB.
สินค้า