®
Copy
r
ight 2012 by "
ใบไม้เขียว
" All Rights reserved
High Voltage / Sub-Station Testing Equipments and Services
SESCO ELECTRIC CO.,LTD.
---
Address: 76/76 Changwattana Rd., Anusaowari, Bangkhen, Bangkok 10220. Tel: 081-9207465 , Fax: +662 9973484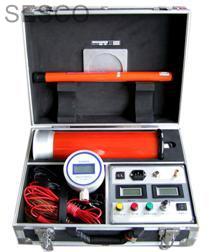 DC Hi pot test set series
0..50-300 kV 1-5mA series

100kV /2mA
HTD-100/2 It is suitable for testing the DC High Voltage equipments of power sector, circuit breaker,MOA, magnetic blow arrester, power cables, generators, transformers, switches.
Features
1. Smaller size and lighter weight,beautiful body, simple to use
2. Advanced technology, process manufacturing, the first application of the latest PWM frequency pulse width modulation, pulse train using high-power IGBT logic array Tiaozhi great feedback device and the voltage, so that a higher output voltage stability, ripple coefficient smaller.
3. Advanced technology components, durable, not afraid of a continuous short circuit on the discharge directly.
4. High precision measurement accuracy. Voltage, current meter are digital display, voltage resolution of 0.1kV, the current resolution 1uA, control box on the voltage meter displayed directly on the test samples not afraid of discharge impact, anti-jamming performance, suitable for field use.
6. Negative polarity output, zero start, continuously adjustable, with over voltage, over current, back to zero, ground protection.
7. With high-precision 75% VDC-1mA function, measurement of Metal oxide arrester
8. Easy over voltage setting function, using a digital dial switch to visualize the whole set-voltage value, so that you operate more freely, show values in units of kV.


Technical data
1.Output voltage (kV): 0-100
2.Output current(mA): 2
3.Output power (W): 2
4.Charging current (mA) : 12
5.High voltage polarityNegative voltage polarity,zero voltage start,continuous adjustment
6.Power supply : AC 220V ;50Hz
7.Voltage measurement error1.0%(full range) 1 digit,Max.resolution 0.1%kV
8.Current measurement error1.0%(full range) 1 digit,Max. resolution 0.1%uA
9.Ripple coefficient 1.0%
10.Working modeIntermittent use,rated load 30mins;1.1times rated voltage use,10mins
11. For other ratings please contact us
100kV
Low Price 14x,xxx-
HI POT TEST
We appreciate your requirements. For the most efficient service,please contact us
via email.


If you have any questions regarding this web site, please contact
Sales@Sesco.co.th or pemanr@htmail.com
จำหน่ายอุปกรณ์ไฟฟ้าแรงสูง.. เครื่องมือทดสอบไฟฟ้าแรงสูง...PM และ site test
บริการทดสอบ TYPE TEST by KERI LAB.
สินค้า