®
Copy
r
ight 2012 by "
ใบไม้เขียว
" All Rights reserved
High Voltage / Sub-Station Testing Equipments and Services
SESCO ELECTRIC CO.,LTD.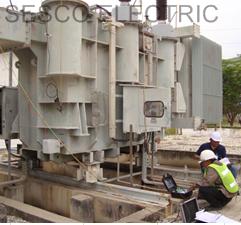 ---
Address: 76/76 Changwattana Rd., Anusaowari, Bangkhen, Bangkok 10220. Tel: 081-9207465 , Fax: +662 9973484
About us
We appreciate your requirements. For the most efficient service,please contact us
via email.


If you have any questions regarding this web site, please contact
Sales@Sesco.co.th or pemanr@hotmail.com
SESCO Electric Co., Ltd .(SESCO) was found in 2005, has been established by a group of technical expert with experience engineers in many flied such as : Electrical, Electronic, Mechanical, Instrument, Computer and Telecom. We have experience in Low, Medium and High voltage apparatus, Instrument control, Control and Relay Protection System, Switchgear and Controlgear, Switchyard equipment, Computerized System for Control Substation, Power plant Industrial process by our scope of Maintenance & Service,Installation, Test & Commissioning. provided by us.

SESCO business aim to be non-stop learning and continuous improve organization to increase availability, better reliability and reduced costs. We take our business seriously because we only succeed when our customers are satisfied. Ultimately SESCO will bring the experience to transfer to our customers.
Mission Statement:

"To become The Social Company in Thailand which care to employee human life , which delivers timely, cost effective work of the premium Quality"
จำหน่ายอุปกรณ์ไฟฟ้าแรงสูง.. เครื่องมือทดสอบไฟฟ้าแรงสูง...PM และ site test
บริการทดสอบ TYPE TEST by KERI LAB.