Address: 76/76 Changwattana Rd., Anusaowari, Bangkhen, Bangkok 10220. Tel: +662 5213027 Fax: +662 5213028
®
Copy
r
ight 2012 by "
ใบไม้เขียว
" All Rights reserved
High Voltage / Sub-Station Testing Equipments and Services
SESCO ELECTRIC CO.,LTD.
---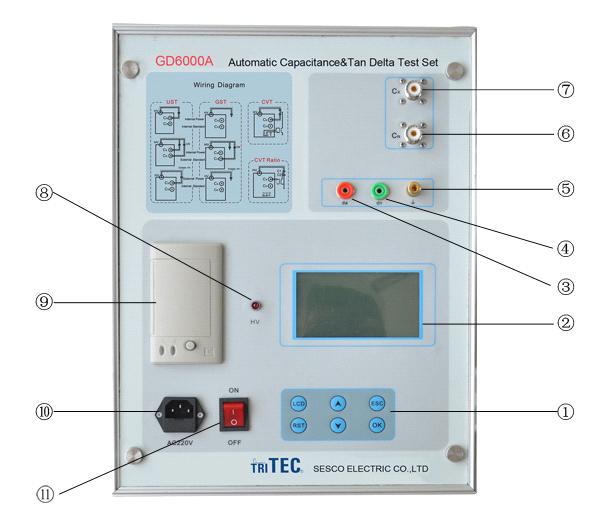 GD-6000A is designed to measure the capacitance and dielectric loss factor (tan delta) of electric equipments. It can test grounded equipments(GST), non-grounded equipments(UST), and completely-sealed CVT (Capacitive Voltage Transformer) and standard capacitor.
It generates the testing High-voltage by itself, and the frequency is 45 to 55Hz to avoid the electromagnetic interference from power frequency, in order to ensure the measuring accuracy.

Specification
1. ambient Condition -15C - 40C : RH 80%
2. Anti-interference frequency conversion
3. Power Supply AC 220V +/-10% generator can be used
4. High Voltage Output 0.5KV-10KV Each step 0.1kV precision 2% Maximum Current 200mA Capacity 1500VA
5. Self-Excited Power AC 0V-50V/15A 45HZ/55HZ
6. Definition tg delta : 0.001% Cx: 0.01pF
7. Precision : tg delta (Reading*1.0%+0.040%) Cx : (Reading*1.0%+1.00PF)
8. Measuring Range
tg delta : Without Limit
Cx : 15pF< Cx< 300nF
10KV Cx< 60 nF
5KV Cx< 150 nF
1KV Cx< 300 nF
CVT Test Cx < 300 nF
9. Measuring range of CVT ratio 10 - 10000
CVT Precision ratio 0.1%
CVT resolution ratio 0.01
10. Dimension 430 mm Lx 330mm Wx 330mm H
11. Storage Size 80 Group
12. Weight 27 Kg
.
GD6000A 10 kV Insulation Capacitance and Tan delta test
CVT ratio measurement included !
Price 24x,xxx-
We appreciate your requirements. For the most efficient service,please contact us
via email.


If you have any questions regarding this web site, please contact
Sales@Sesco.co.th or pemanr@hotmail.com
Capacitance and Tandelta Factor test
จำหน่ายอุปกรณ์ไฟฟ้าแรงสูง.. เครื่องมือทดสอบไฟฟ้าแรงสูง...PM และ site test
บริการทดสอบ TYPE TEST by KERI LAB.
สินค้า