We appreciate your requirements. For the most efficient service,please contact us
via email.


If you have any questions regarding this web site, please contact
Sales@Sesco.co.th or pemanr@htmail.com
®
Copy
r
ight 2012 by "
ใบไม้เขียว
" All Rights reserved
High Voltage / Sub-Station Testing Equipments and Services
SESCO ELECTRIC CO.,LTD.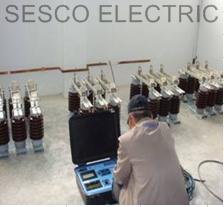 ---
Contact resistance tester
0 - 100 A
GDH-100 Contact Resistance Tester is an ideal instrument for testing high/low voltage switch ,cables,and contact resistance etc.It can measure resistance of test object under the current 100A. The product is small size ,light weight , anti-interference ,high accuracy ,easy operation,and owns fully protective functions.

Specification
1.Test current: DC 0 to 100A (continueous , adjustable)
2.Max. Ripple ratio: 3% @ 100A, 20m?
3.Measuring range: 0 to 1.999mOhm / 0 to 19.99 mOhm
4.Resolution: 1uOhm /10 u Ohm
5.Accuracy: 1.0%
6.Power supply: AC 220V?20%, 50Hz?1
7.Operation conditions: 0 to 40?C, RH<85%
8.Dimension: 350x240x220mm
9.Weight: 6kg
10.Carrying case: 425x300x170mm, 14kg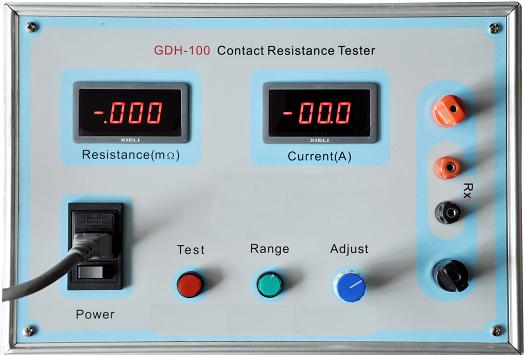 Loop , contact resistance tester
100/200 A
The equipment is suitable for measuring Circuit Breaker or switching control device loop resistance/contact resistance, specially for testing high precision of ์ู. It can directly measure the loop resistance under current of 100A/200A with digital display and it can print the test result. The instrument has the characters of good accuracy, performance and stability. It can meet the requirements of power sector field and high-voltage switch factory to test loop resistance/contact resistance.

Specification
1.Output Current: DC 100A/200A (adjustable- 2 shifts for optional)
2.Measurement Range: 1uOhm ~ 1999 uOhm
3.Resolution: 1uOhm
4.Measurement Accuracy :
?
0.05%
5.Power Supply: AC 220
?
10%; 50Hz
6.Temperature: -10C ~45 C
7.Humidity: 40C
(
20~90
)
%RH
8.Demension: 485x395x375mm
9.Net Weight: 15kg (with wires)

Price 7x,xxx-
Price 12x,xxx-
Address: 76/76 Changwattana Rd., Anusaowari, Bangkhen, Bangkok 10220. Tel: 081-9207465 , Fax: +662 9973484
Low resistance tester
จำหน่ายอุปกรณ์ไฟฟ้าแรงสูง.. เครื่องมือทดสอบไฟฟ้าแรงสูง...PM และ site test
บริการทดสอบ TYPE TEST by KERI LAB.
สินค้า