Address: 76/76 Changwattana Rd., Anusaowari, Bangkhen, Bangkok 10220. Tel: +662 5213027 Fax: +662 5213028
®
Copy
r
ight 2012 by "
ใบไม้เขียว
" All Rights reserved
High Voltage / Sub-Station Testing Equipments and Services
SESCO ELECTRIC CO.,LTD.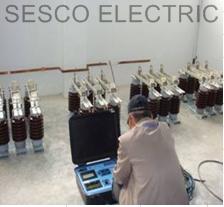 ---
Overview
Digital Insulation resistance tester combination of dot matrix liquid crystal display ,strong anti-interference,AC-DC dual-use, simple operation, automatic calculation of various insulation index (absorption ratio, polarization index), It is suitable for measuring high capacity transformers, transformers, generators, high voltage electric motors, power capacitors, power cables, surge arresters and other ideal insulation resistance test equipment.
Features
1. Built-in residual high voltage discharge circuit, testing is completed on the device under test can be automatically let go of the residual pressure.
2. AC and DC, configuration rechargeable battery and AC adapter.
3. High voltage short circuit current > 3.5 mA,
4. Working temperature: -10C - 40C
6.. Size: 230x190x90mm
Insulation Resistance Tester, (MEGGER TEST)
BC2305 250/500/2500/5000 V 200 GOHM
BC2306 5kV/10kV 400 GOHM

Insulation Resistance Tester, (MEGGER TEST)GD3125 500/1000/2500/5000V 2 TERA OHM
Features
1. Multi-channel test voltage,measurement insulation resistance up to 2 T
era ohm
ู.
2. 31/2LCD digital show for insulation resistance value.
3. Auto switch range,easy to read.
4. Environment temperature measurement.
5. Auto-timing function,buzzer sound in every 15s.
6. R15S,R60S,R600S, absorptance,Polarization values auto measuring,calculating and saving.
7. Output short-circuit current more than 5mA,meet requirements of capacitive load fast
charging.
8. Strong anti-interference ability,stable and reliable reading.
9. Complete protection function,ensure operation security.
10. Rechargeable Li-battery.Auto power off if low battery.
Price 5x,xxx-
Price 8x,xxx-
Price 7x,xxx-
Insulation resistance test
We appreciate your requirements. For the most efficient service,please contact us
via email.


If you have any questions regarding this web site, please contact
Sales@Sesco.co.th or pemanr@hotmail.com
จำหน่ายอุปกรณ์ไฟฟ้าแรงสูง.. เครื่องมือทดสอบไฟฟ้าแรงสูง...PM และ site test
บริการทดสอบ TYPE TEST by KERI LAB.
สินค้า