®
Copy
r
ight 2012 by "
ใบไม้เขียว
" All Rights reserved
High Voltage / Sub-Station Testing Equipments and Services
SESCO ELECTRIC CO.,LTD.
---
Transformer winding resistance test
0-10 A , 0-2k Ohm single channel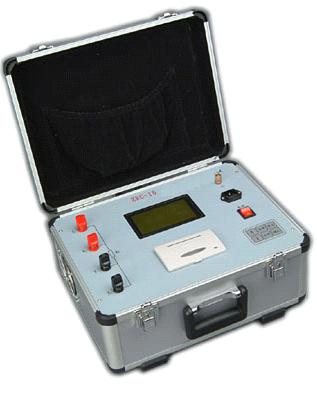 Load maximum test current can be set by programme automatically
Current output range 0.01A /1A/1A/5A//10A
Resistance range 0-2k Ohm
Technical data
1) Power source
Working power source: AC 230 V, frequency 50Hz
Test voltage: DC 30V
Current output: 10A max
2) Working conditions
Temperature:-20C ~ 50C ,relative humidity: < 80%
Working time :continuum
3) out put data : Accuray: 0.2%, 2 digits Max.resolution: 1 uOHM
4) Memory records quantity: 200 records
5 ) Dimension: 330*218*140mm, Weight: 6.5kg


Transformer winding resistance test
0-10 A , 0-2k Ohm Double channel
higher measurement speed

1) One Current output I+ and I- connected to outside end of tested product's resistance and two voltage input V1+,V1- ...V2+,V2- can be measureed in the same time
2) Earthing terminal: protecting the unit.
3) Temperature probe.
4) Arc suppressionFindicating Arc status .
5) Power socket : AC 230V ,10%with 10A safe fuse inside.
6) Power switch.
7) Contrast knob Fused to adjust contrast
8) USB jack.
9) Keypress : left key : right key : A INTER key : used to adjust cursor position and numerical value and then confirm.
10) LCD screen.
11) Printer : printing test data.

Price 9x,xxx-
Price 17x,xxx-
Address: 76/76 Changwattana Rd., Anusaowari, Bangkhen, Bangkok 10220. Tel: 081-9207465 , Fax: +662 9973484
Transformer winding resistance test
We appreciate your requirements. For the most efficient service,please contact us
via email.


If you have any questions regarding this web site, please contact
Sales@Sesco.co.th or pemanr@hotmail.com
จำหน่ายอุปกรณ์ไฟฟ้าแรงสูง.. เครื่องมือทดสอบไฟฟ้าแรงสูง...PM และ site test
บริการทดสอบ TYPE TEST by KERI LAB.
สินค้า